Susan Cameron is a specialist in accent reduction and has taught over a thousand students from all over the world. She has also served as a speech consultant to foreign executives at American Express, to Japanese doctors at Beth Israel Hospital in NYC and to business people all over the world. She holds an MFA in Acting from the Yale School of Drama.
Click HERE to see her Teaching Resume.
NHK-TV Segment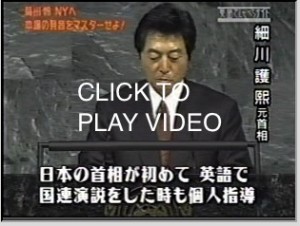 Featured on NHK-TV in Japan
Specialist in reducing Japanese accents
Coached Prime Minister Hosokawa for his United Nations Address before the General Assembly — the first ever given in English by a Japanese Prime Minister
Sinovision Segment
Featured on Sinovision (Chinese TV)
Specialist in reducing Chinese accents.
WNYC News Interview
Listen to Susan on WNYC News